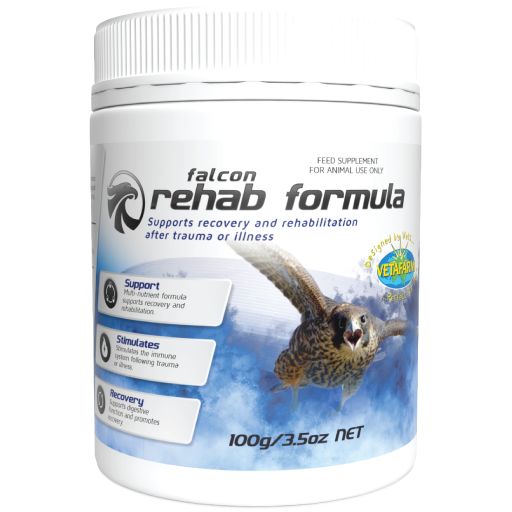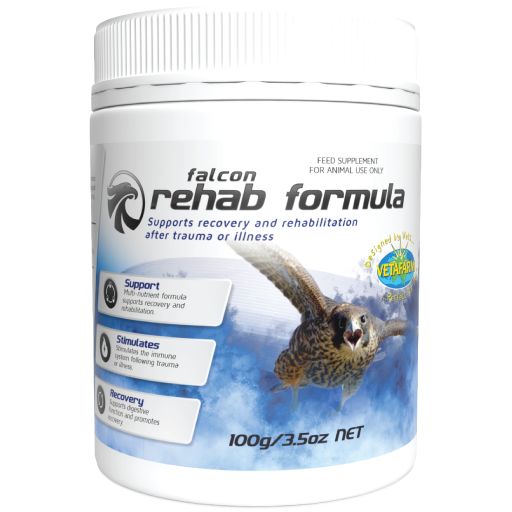 Falcon Rehab Formula
Quail flavoured supplement aids in the recovery and rehabilotation of falcons follwing trauma or illness.
*** Not for sale in Australia.***
Developed by avian veterinarians, Falcon Rehab Formula provides a specialised combination of nutrients that aid in muscle repair, immune and digestive function and the general recovery of falcons following illness or trauma.
Falcon Rehab Formula is designed to be used after a bird is stabilised (can be used following Falcon Poly-Aid) to assist in rehabilitation of a bird back to full health. This unique quail flavoured supplement is dusted directly onto feed items, ensuring a stress-free method of supplementation for falconer and falcon alike.
Sprinkle 1 spoonful of powder over the prey item and feed to the bird as normal.
The formula should be applied to a prey item once daily until the falcon has made a full recovery.
Storage
Protect from light. Store below 30°C (room temperature).
Expiry
5 years from date of manufacture
Per Kg:
Vitamin A (500000IU)
Vitamin B1 (235mg)
Vitamin B2 (600mg)
Vitamin D3 (125 000IU)
Vitamin E (1.25g)
L-Glutamine (25g)
Arginine (39.5g)
Histidine 14.5g)
Leucine (41.6g)
Lysine (33g)
Methionine (7.2g)
Phenylalanine (27.2g)
Copper ions (200mg)
Fe ions (850mg)
Manganese ions (487.5mg)
Potassium ions (17.6g)
Zinc ions (550mg)
Probiotics (60g)