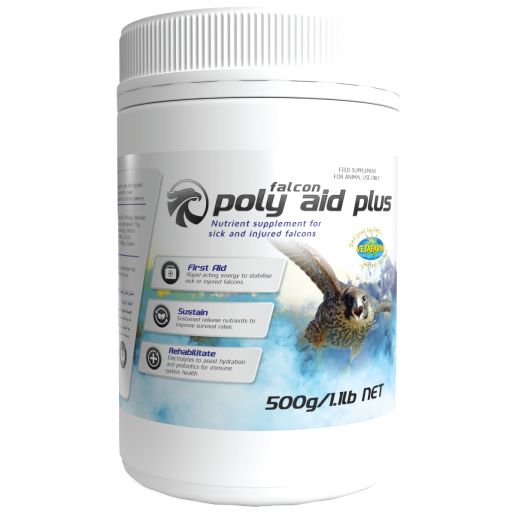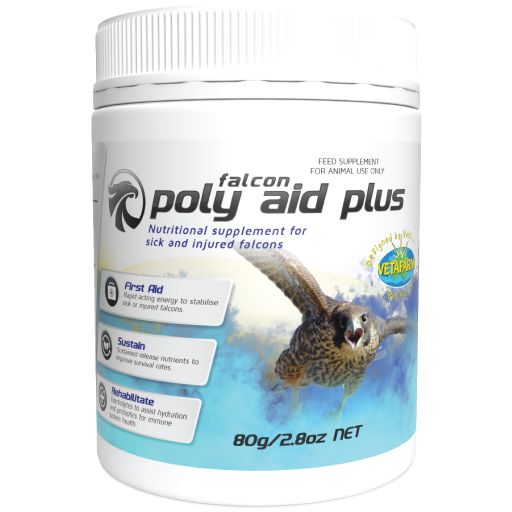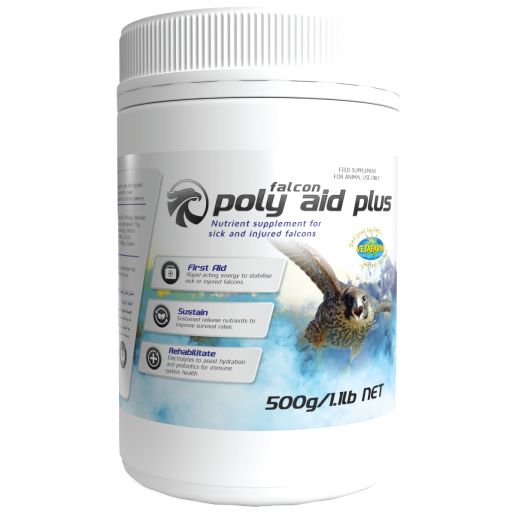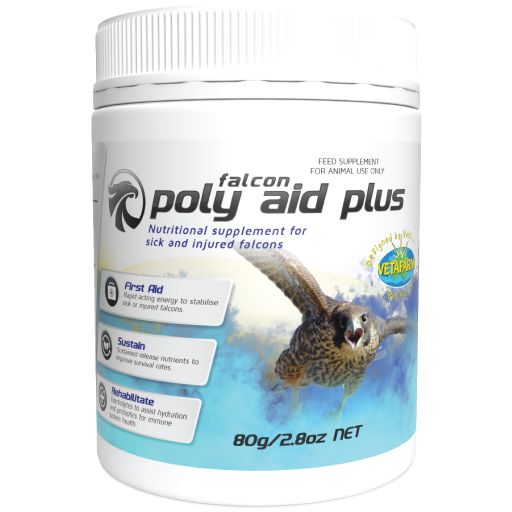 Falcon Poly-Aid Plus
Rapid and sustained energy release supplement to stabilise the health condition of sick or injured falcons.
*** Not for sale in Australia.***
Falcon Poly-Aid Plus was formulated by avian veterinarians to provide first aid nutritional support for sick and injured Falcons in the form of rapid and sustained release energy, vitamins, electrolytes and probiotics.
Veterinarians recommend Poly-Aid Plus as a first aid supplement for all bird owners that is known to improve survival rates.
Mix 10g (1 tbs) of Poly Aid Plus with 5mL (1 tsp) of water to make into a slurry and administer the slurry once or twice daily.
Discard any unused portion. Make up slurry fresh as required and use as necessary until the falcon is eating normally.
Storage
Store below 30?C (room temperature)
Expiry
3 years from the date of manufacture
Active Constituents: Each 10g dose contains:
Vitamin A 200 IU
Vitamin B1 94µg
Vitamin B2 240µg
Vitamin B3 1mg
Vitamin B5 248µg
Vitamin B6 80µg
Vitamin B9 45µg
Vitamin B12 1µg
Vitamin C 10mg
Vitamin D3 25 IU
Starch-Maize (hydrolysed) 7.5g
Vitamin E 0.5mg
Vitamin H 2µg
Vitamin K 0.2mg
Albumen 2g
Calcium Gluconate 58mg
Choline Bitartrate 8mg
Magnesium Sulphate 45mg
Potassium Chloride 76.8mg
Probotic® 0.1g
Sodium Chloride 110.2mg
Probotic® contains:180 Million CFU/g as Lactobacillus acidophilus; L. delbrueckii subspecies bulgaricus; L. plantarum; L. rhamnosus; Bifidobacterium bifidum; Enterococcus faecium; Streptococcus salivarius subspecies thermophilus.