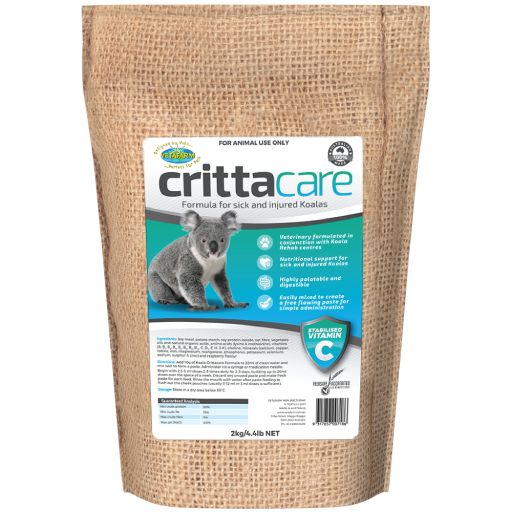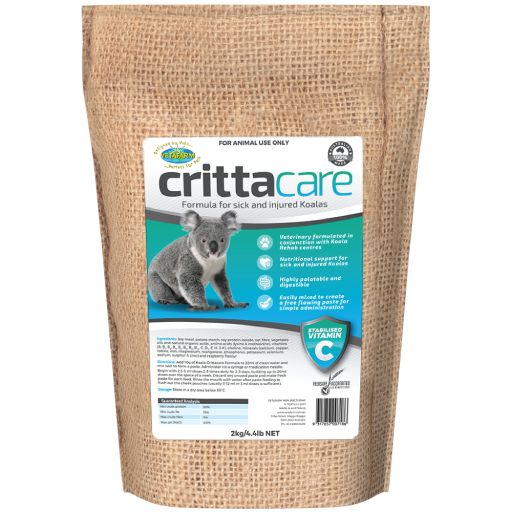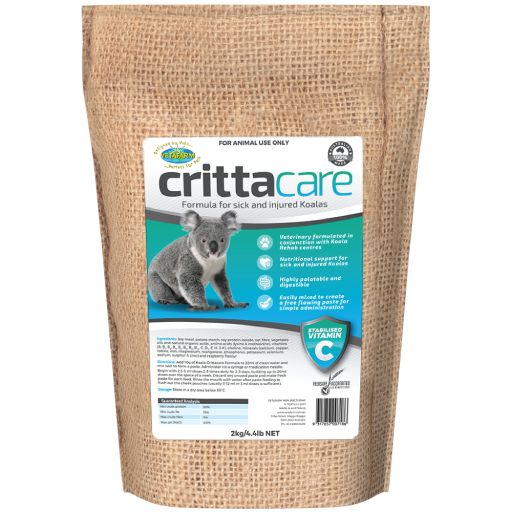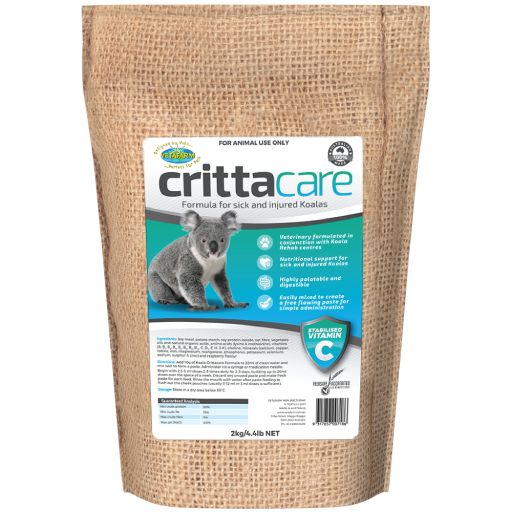 Crittacare Koala
Sick, stressed and injured Koalas require exceptional nutritional care to help with recovery.
Crittacare Koala is highly palatable and provides high quality vitamins, minerals and essential amino acids, with prebiotics and probiotics to aid in re-establishing healthy gut function and support struggling digestive systems.
Crittacare Koala is veterinary formulated in conjunction with Koala rehabilitation centres and is trusted by veterinarians, zoos and wildlife parks across the world.
Crittacare Koala was formulated by veterinarians in conjunction with Koala rehabilitation centres for the nutrition and hydration of Koalas who are recovering from illness/injury and not eating voluntarily.
It is highly palatable and digestible and is easily mixed to create a free flowing paste for simple administration.
Add 10g (one metric tablespoon) of Koala crittacare formula to 22ml of clean water and mix well to form a paste.
Administer via a syringe or medication needle.
Begin with 2.5-5 ml doses 2-3 times daily for 2-3 days, building up to 20ml doses over the space of a week.
Discard any unused paste and make fresh paste for each feed.
Rinse the mouth with water after paste feeding to flush out the cheek pouches (usually 9-12 ml in 3 ml doses is sufficient).
Storage
Store in a dry area below 30°C
Expiry
2 years from the date of manufacture
Soy meal, potato starch, soy protein isolate, oat fibre, vegetable oils and natural organic acids, amino acids (lysine & methionine),
Vitamins (A, B1, B2, B3, B5, B6, B9, B12, C, D3, E, H, & K), choline,
Minerals (calcium, cobalt, copper, iodine, iron, magnesium, manganese, phosphorus, potassium, selenium, sodium, sulphur & zinc) and raspberry flavour
Guaranteed Analysis
Min Crude Protein 20%
Min crude fat 15%
Min Crude fibre 5%
Max Salt 0.5%