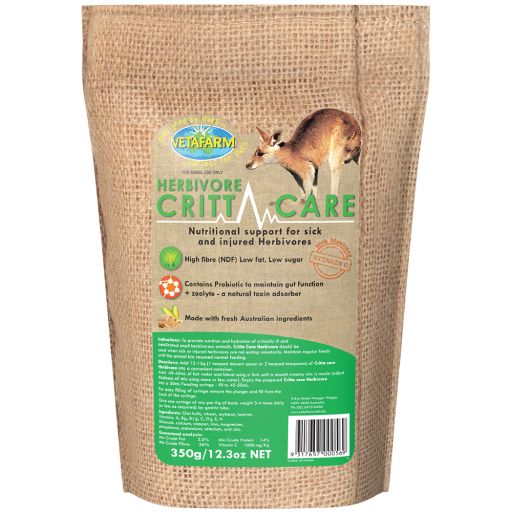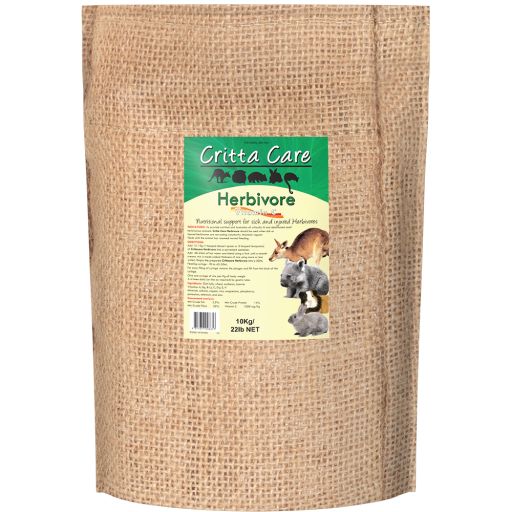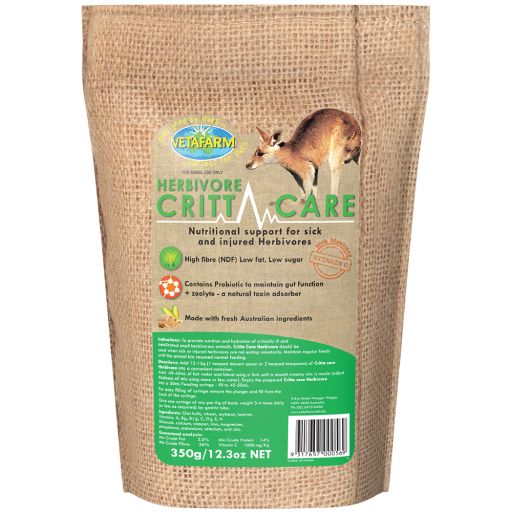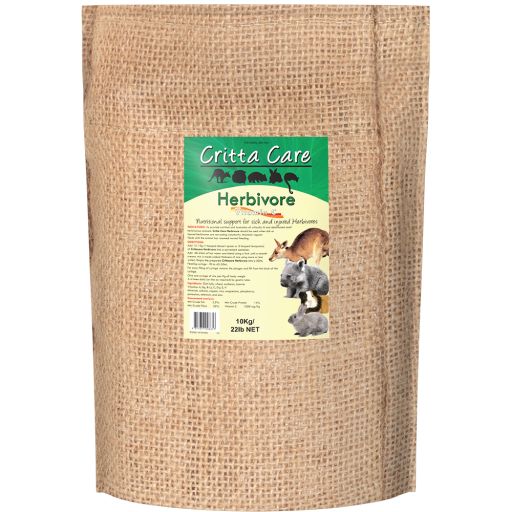 Crittacare Herbivore
Sick, stressed and injured herbivores (such as Cavies, Kangaroos, Wombats, Possums, Wallabies, Quokkas and Rabbits) require exceptional nutritional care to help with recovery.
Crittacare Herbivore is a high fibre, low fat, low sugar formula that provides high quality vitamins, minerals and essential amino acids, with prebiotics and probiotics to aid in re-establishing healthy gut function and support struggling digestive systems. Crittacare Herbivore is trusted by veterinarians, zoos and wildlife parks across the world.
Crittacare Herbivore was formulated by veterinarians to provide nutritional support for sick, stressed, injured and debilitated small herbivorous animals. It should be used when these animals are not eating voluntarily.
This product is high fibre, low fat, low sugar and contains vitamins, minerals, calcium and essential amino acids, stabilised Vitamin C, probiotics (to maintain gut function) and zeolyte (a natural toxin absorber).
It is extrusion cooked for safety and digestibility.
Add 12-15g (1 heaped dessert spoon or 2 heaped teaspoons) of Crittacare Herbivore into a convenient container.
Add 40-45mL of hot water and blend using a fork until a smooth creamy mix is made (adjust thickness of mix using more or less water).
Empty the prepared Crittacare Herbivore into a 50mL Feeding syringe - fill to 45-50mL. For easy filling of syringe remove the plunger and fill from the back of the syringe.
Give one syringe of mix per Kg of body weight 3-4 times daily (or less as required) by gastric tube.
Maintain regular feeds until the animal has resumed regular feeding.
Storage
Store in a dry area below 30°C
Expiry
2 years from date of manufacture
Oat Hulls, Lucerne, Wheat, Soybean, Lecithin Soy, Salt,
Probiotic (Lactobacillus acidophilus, L.casei, L. salivarius, L.plantarum, L.rhamnosus, L.brevis, Bifidobacterium bifidum, B.lactis, S. thermophilus.),
Zeolite, Lysine, Methionine, Raspberry Flavour,
Vitamins (A, B1, B2, B3, B5, B6, B9, B12 C, D3, E, H & K) &
Minerals (Calcium, Cobalt, Copper, Iodine, Iron, Magnesium, Manganese, Phosphorus, Potassium, Selenium Sodium, Sulphur & Zinc).
Guaranteed Analysis
Min Crude Protein 14%
Min Crude Fat 2.5%
Min Crude Fibre 26%
Vitamin C 1000 mg/Kg