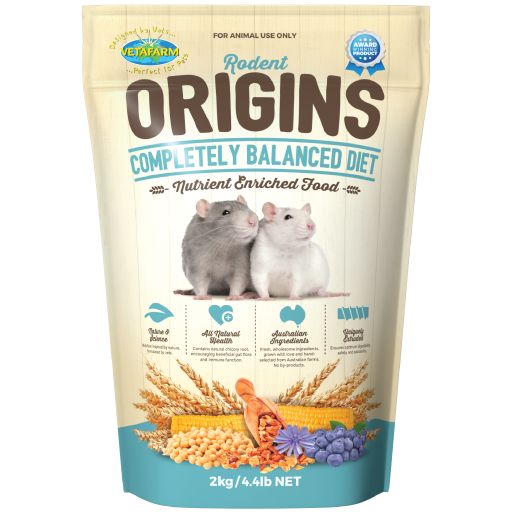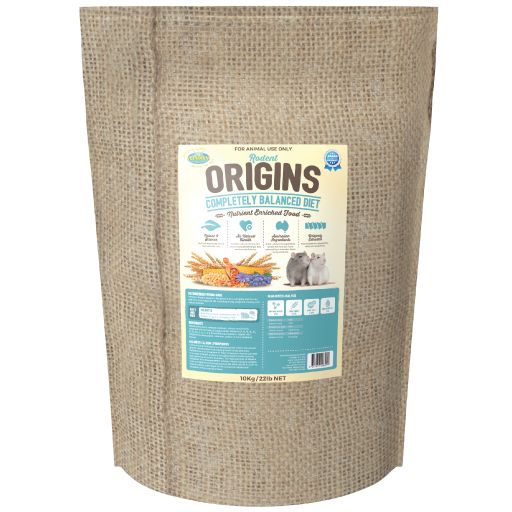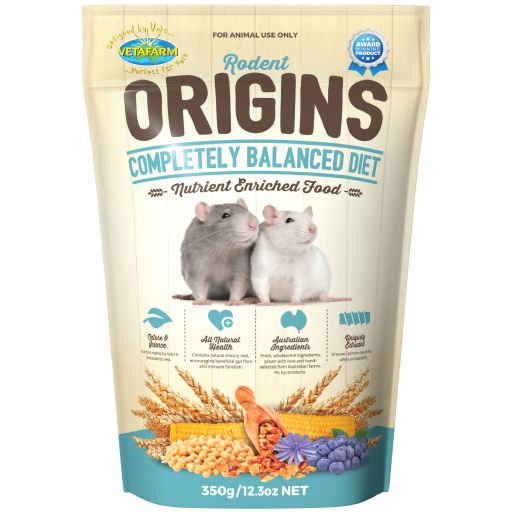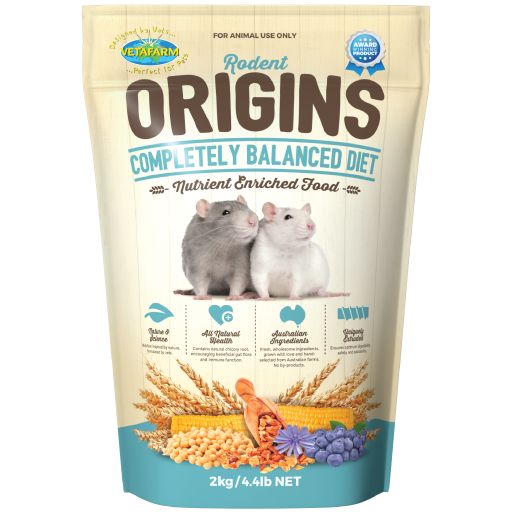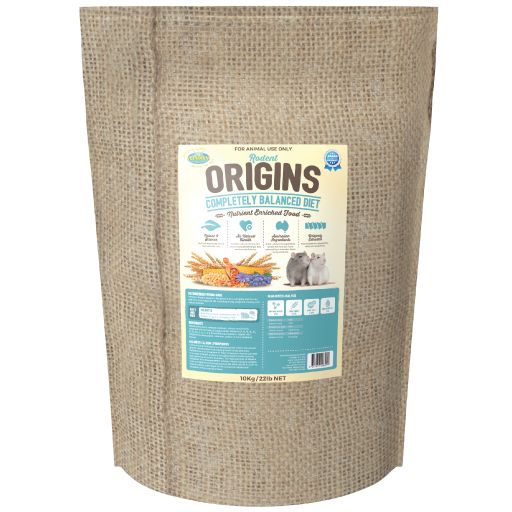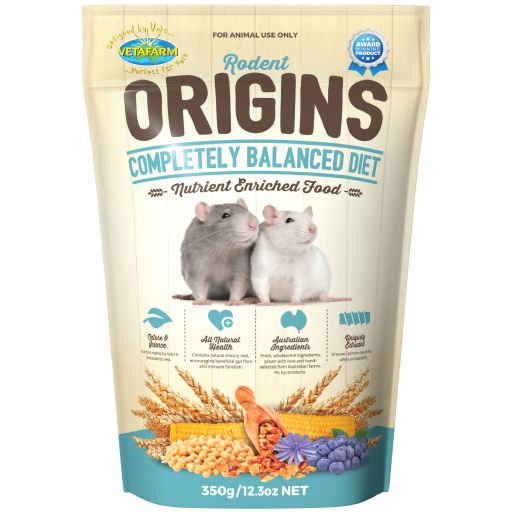 Rodent Origins
Rodents are miraculously adaptable, social, omnivorous survivors. While rodents are the ultimate survivors, and their omnivorous diet means they can generally survive on almost anything – they do far better and make much better pets when on a balanced diet. Rodent Origins is a completely balanced diet with vitamins, minerals and natural chicory root. Made from fresh, Australian non-GMO ingredients.
Rodent Origins was formulated by veterinarians as a complete diet for pet Rodents, at a ratio of 95% pellets and 5% fresh foods & treats.
Contains fresh, wholesome ingredients, grown with love and hand selected from Australian farms. No by-products.
Contains natural chicory root, encouraging beneficial gut flora and immune function. Extruded to ensure optimum digestibility, safety and palatability.
Vetafarm Rodent Origins are designed to be a complete diet for rats and mice in all stages of life, including young, pregnant, nursing and mature animals.
Rats and Mice should be provided with unlimited access to Rodent origins - make freely available as the primary food source.
Please note that the above feeding recommendations should be used as a guide only.
Be sure to check with your veterinarian or contact Vetafarm for more specific information if your animal is underweight or over weight, or if your Rat or Mouse has special dietary needs due to a health conditions.
Storage
Store in a dry area below 30°C
Expiry
2 years from the date of manufacture
Whole grains (corn, wheat & soybean), chicory root (inulin), vegetable oils and natural organic acids, Vitamins (A, B1, B2, B3, B5, B6, B9, B12, C, D3, E, H & K) and Minerals (calcium, copper, iron, magnesium, phosphorus, selenium, sodium & zinc), blueberry flavour.
Guaranteed Analysis
Min Crude Protein 17%,
Min Crude fat 5%,
Max Fibre 3.5% ,
Max Salt 0.5%
Calcium min 0.5% max 0.8%
Phosphorus (min) 0.2%
Vitamin A (min) 5,000 IU/kg
Vitamin D3 (min) 1,500 IU/kg
Vitamin E (min) 50 mg/kg
Vitamin C (min) 19 mg/kg.