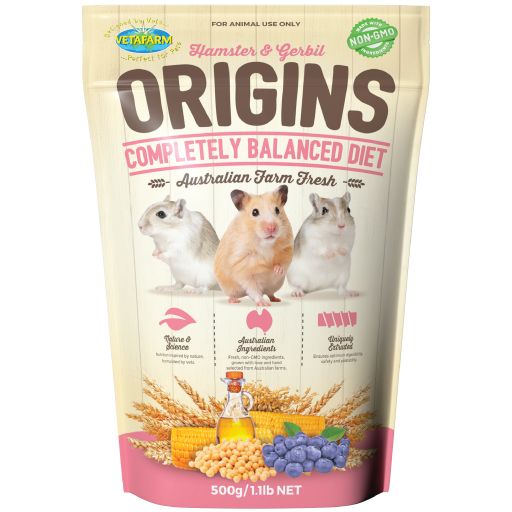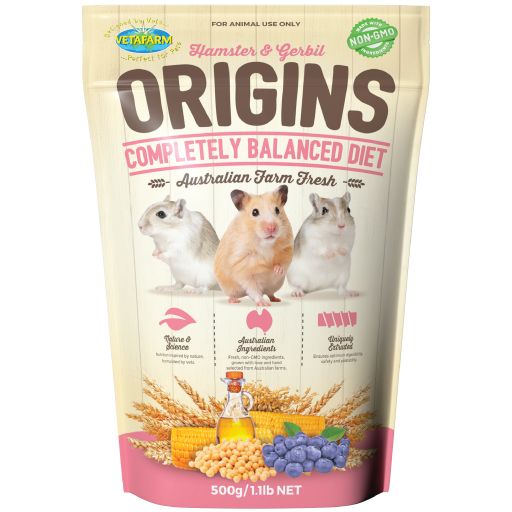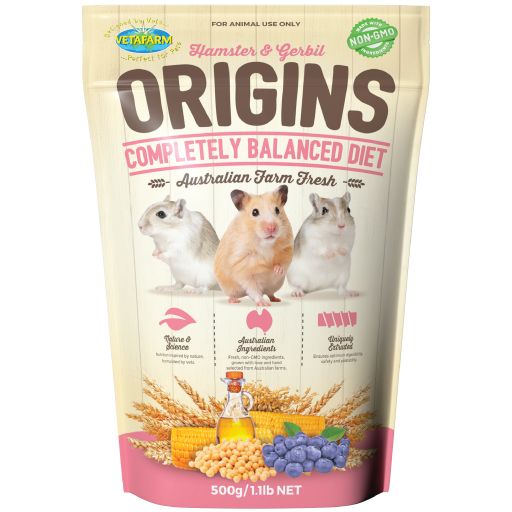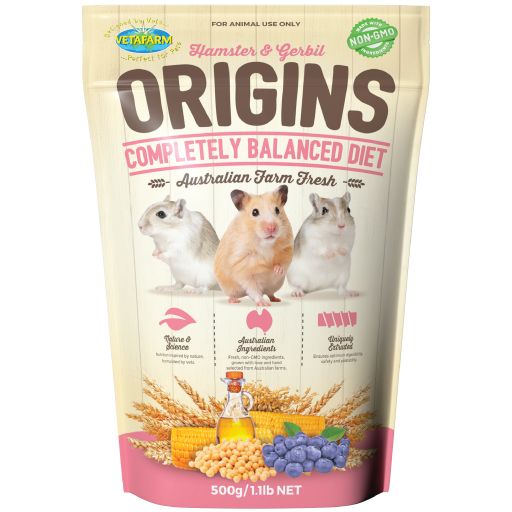 Hamster & Gerbil Origins
Hamster and Gerbil Origins has been specially crafted to suit the omnivorous diet of hamsters and gerbils. Vitamins, minerals and amino acids have been carefully balanced to suit all life stages. Only the freshest, non-GMO ingredients have been included to provide all hamsters and gerbils with the highest quality diet.
Hamster & Gerbil Origins was formulated by veterinarians as a complete diet for pet Hamsters and Gerbils, at a ratio of 80% pellets and 20% high fibre hay and fresh foods.
The range of vitamins, minerals and essential amino acids in Hamster and Gerbil Origins have been carefully balanced by veterinarians and nutritionists with fresh ingredients to promote the best health in your hamster or gerbil through every stage of life.
Made with Non-GMO ingredients and extrusion cooked to improve digestibilty and safety.
Vetafarm Hamster and Gerbil Origins are designed to be fed in different quantities depending on the age and activity levels of your pet.
Young, pregnant or nursing hamsters and gerbils, or those animals requiring a higher specification diet for health reasons should be allowed free access to Hamster and Gerbil Origins, while mature animals should be fed as per the guide below:
Per adult per day:
Small Hamsters & Gerbils 1/8 Cup
Large Hamsters & Gerbils 1/3 Cup.
80% Hamster & Gerbil Origins extruded pellets, 20% High fibre hay and fresh foods and unlimited fresh water.
Please note that the above feeding recommendations should be used as a guide only.
Be sure to check with your veterinarian or contact Vetafarm for more specific information if your animal is under or over weight, or if your hamster or gerbil has special dietary needs due to a health condition.
Storage
Store in a dry area below 30°C
Expiry
2 years from the date of manufacture
Whole grains (corn, wheat and soybean), oat fibre, vegetable oils and natural organic acids.,Vitamins (A, B1, B2, B3, B5, B6, B9, B12, C, D3, E, H & K) and Minerals (calcium, copper, iron, magnesium, phosphorus, selenium, sodium, zeolite & zinc), blueberry flavour.
Guaranteed Analysis
Min crude protein 17%
Max fibre 9%
Max salt 0.5%
Min crude fat 8%
Calcium 0.4% - 0.6%
Phosphorus 3g-4g/kg
Vitamin A (min) 10,000 IU/kg
Vitamin D3 (min) 3,000 IU/kg
Vitamin E (min) 180 mg/kg