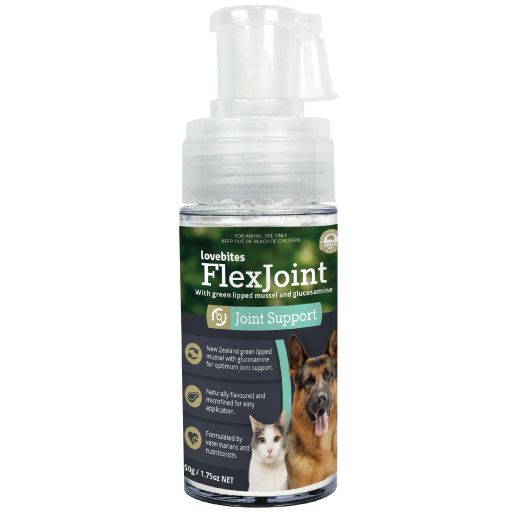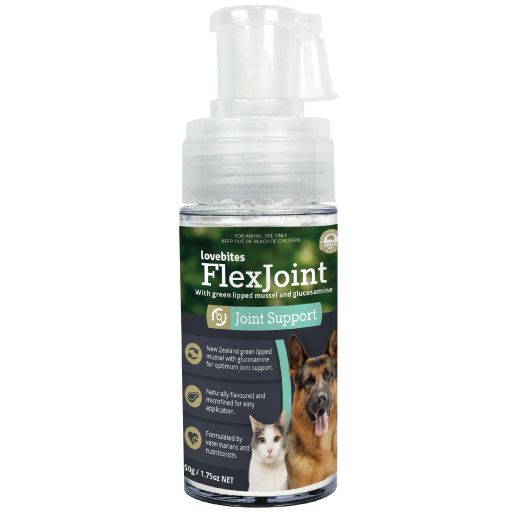 Flexjoint Topper
Osteoarthritis is the most common form of arthritis in dogs. It affects one quarter of the dog population. There can be many factors that may contribute to development of joint issues, including, size, breed, previous trauma, intense activity, obesity, poor nutrition and age.
FlexJoint meal toppers contain a synergistic combination of New Zealand green lipped mussel and glucosamine. This helps to provide advanced relief from debilitating arthritic symptoms in dogs.
FlexJoint meal toppers are suitable for both cats and dogs.
The vetafarm lovebites flexjoint toppers were formulated by veterinarians for the support of animals suffering from the symptoms of osteoarthritis to assist in reducing joint pain and improve mobility.
Green Lipped Mussel is the supplement of choice for inflammation reduction and joint function.
Glucosamine provides the nutritional components for joint function and repair.
Flavoured with fresh Australian kangaroo, and microfined for excellent application and palatability.
Before use: Gently shake bottle, then aim nozzle in bin and pump 3-5 times to prime pump with correct dose of powder. Once primed, aim nozzle at food and dispense pumps as per directions below. Gently shake before each use.
Starting Dose: Spray food with 1 pump of flexjoint per 5kg bodyweight once daily for the first 4 weeks.
Maintenance Dose: After the first 4 weeks, spray food with 1 pump of flexjoint per 5kg bodyweight once every second day.
50g Package contains approx 200 pumps
Note: Dogs of a breed with predisposed joint problems may be provided with the maintenance dose from any age.
Storage
Please ensure nozzle is clean and dry before and after each use. Store in a cool, dry place.
Expiry
3 years from the date of manufacture
375mg/g D-Glucosamine sulphate, 250mg/g NZ Green lipped mussel.
Also contains: soy protein, kangaroo meat.