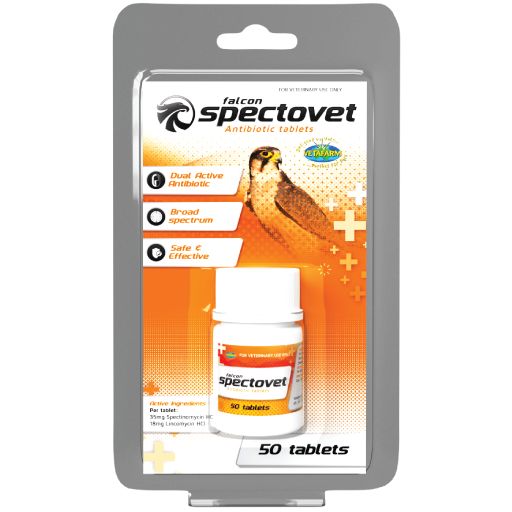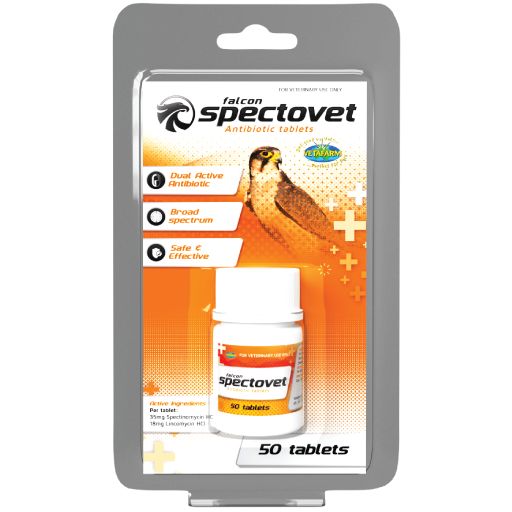 Falcon Spectovet
Broad spectrum antibiotic effective against multiple infections in falcon.
First line antibiotic for intestinal and respiratory bacterial infectons in falcons.
*** Not for sale in Australia.***
Developed by avian veterinarians, Falcon Spectovet is a broad spectrum, dual active antibiotic that is safe and effective.
It contains two active ingredients (Spectinomycin and Lincomycin) for the treatment of common bacterial infections in falcons, particularly those of the respiratory system and sinus, which may include: Mycoplasma, Streptococcus, Staphylococcus, Corynebacteria, E. coli and Salmonella.
Give 1 tablet per 1Kg (35oz) body weight daily for 5-7 days.
Storage
Store below 30°C (room temperature). Protect from moisture.
Expiry
3 years from date of manufacture
35mg Spectinomycin HCL, 18mg Lincomycin HCL.