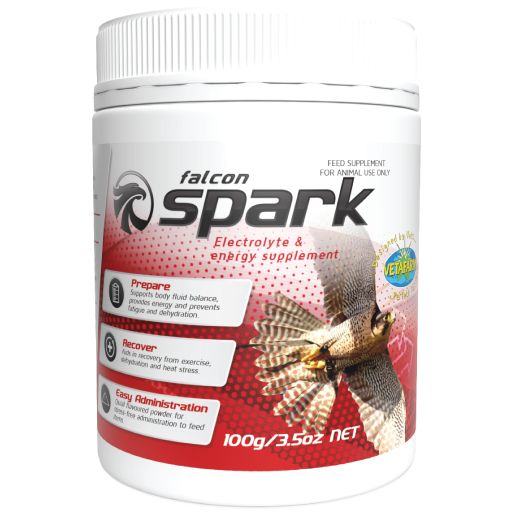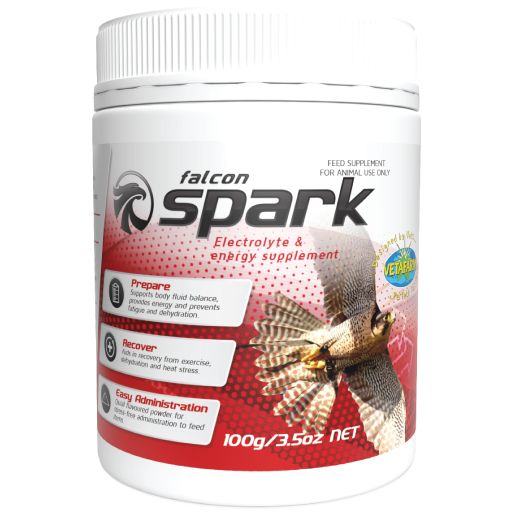 Falcon Spark Electrolyte
Concentrated formula of electrolytes, energy to prevent and treat dehydration and exhastion in falcons.
*** Not for sale in Australia.***
Developed by avian veterinarians, Falcon Spark provides concentrated energy and electrolytes to prepare Falcons for strenuous physical activity and recover rapidly.
The use of Falcon Spark before exercise assists in the prevention of dehydration, exhaustion and is an effective post exercise supplement.
This unique quail flavoured supplement is dusted directly onto feed items, ensuring a stress-free method of supplementation for falconer and falcon alike.
Sprinkle 1 scoop of Falcon Spark over each feed item before feeding.
Falcon Spark should be used every feed 3-5 days before hunting, racing or exercise, then following exercise to aid recovery for an additional 3-5 days.
Falcon Spark may also be used in times of travel, heat stress or illness recovery to protect against dehydration and provide essential energy.
Storage
Store below 30°C (room temperature). Protect from moisture.
Expiry
5 years from date of manufacture
Per kg:
Glucose 138g,
Potassium Ions 20g,
Sodium Ions 20g,
Citrate Ions 30g
Bicarbonate Ions 23g.