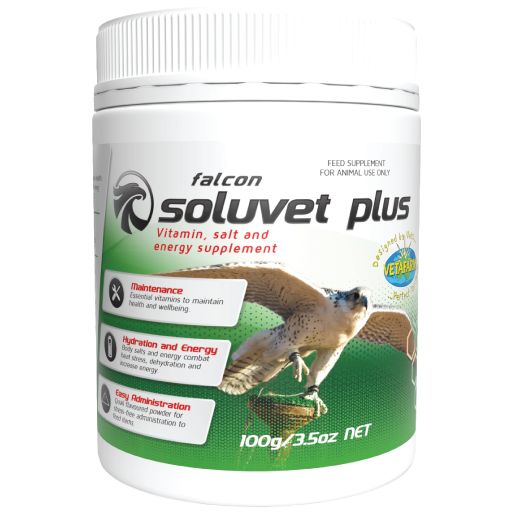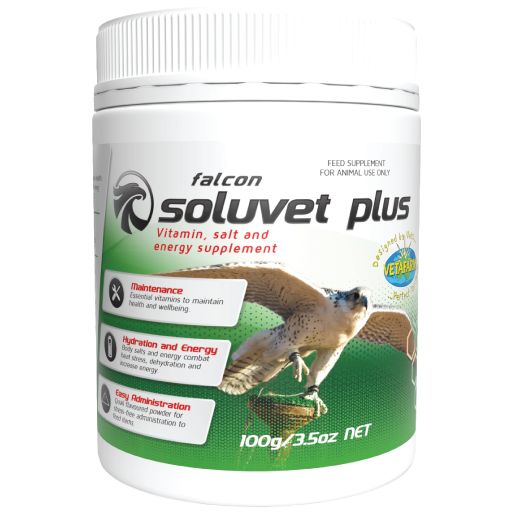 Falcon Soluvet Plus
Quail flavoured supplement contains essential vitamins, electrolytes to maintain good health & provide optimum energy levels for falcons.
*** Not for sale in Australia.***
Falcon Soluvet Plus was formulated by avian veterinarians to maintain health and wellbeing.
This product provides a unique combination of vitamins essential for general health and wellbeing, while also providing body salts and energy to combat heat stress, fatigue, dehydration and increase energy levels.
This unique quail flavoured supplement is dusted directly onto feed items, ensuring a stress-free method of supplementation for falconer and falcon alike.
Sprinkle 1 scoop of Falcon Soluvet Plus over each feed item before feeding.
Falcon Soluvet Plus may be used with every feed as a maintenance supplement to improve general health and performance, or during times of stress, illness or injury to support recovery.
Storage
Protect from light. Store below 30°C (room temperature).
Expiry
5 years from date of manufacture
Per kg:
Vitamin A (500 000IU),
Vitamin B1 (235mg),
Vitamin B2 (600mg),
Vitamin B3 (2.5g),
Vitamin B5 (620mg),
Vitamin B6 (200mg),
Vitamin B9 (112mg),
Vitamin B12 (2mg),
Vitamin D3 (62500IU),
Vitamin E (1,250 IU),
Vitamin H (5mg)
Vitamin K (1g),
Choline bitartrate (20mg),
Iodine (100mg),
Magnesium sulfate (20mg),
Sodium citrate (18g),
Sodium bicarbonate (14g),
Sodium chloride (2.3g).