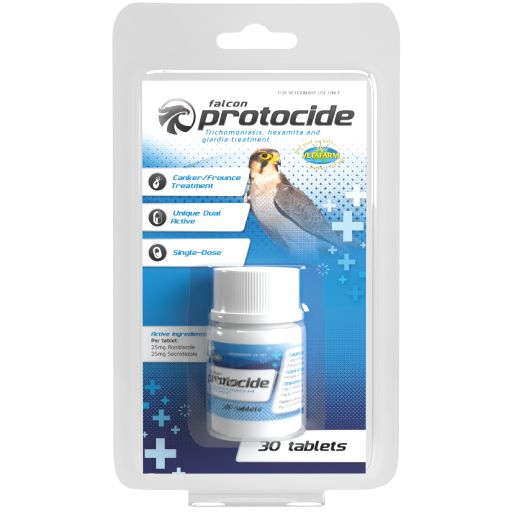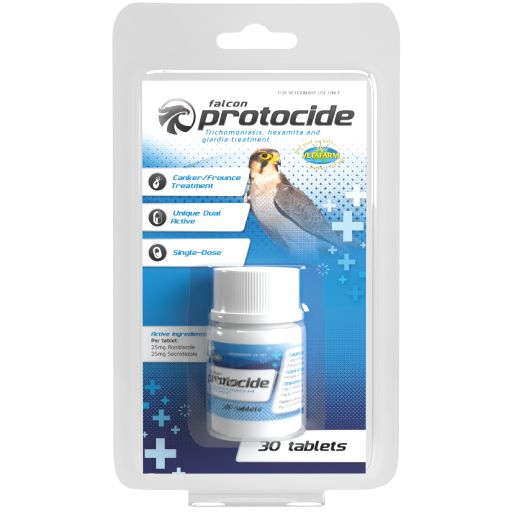 Falcon Protocide
Single dose treatment that effectively cures frounce in falcons, with prolonged action.
*** Not for sale in Australia.***
Falcon Protocide Tablets were formulated by avian veterinarians as a double action treatment to cure Trichomoniasis (Frounce/Canker), Hexamita and Giardia in Falcons.
Treatment involves the administration of just one tablet as a single dose treatment. This product contains two active ingredients, Ronidazole and Secnidazole and is both safe and highly effective.
A single dose remains active in the bird for up to 7 days after treatment. The use of pigeons as a feed source for falcons is a leading cause of transmission of Frounce/Canker, always ensure your pigeon supplier has routine treatment protocols for Canker in their pigeons before purchasing.
Give one tablet per 1kg (35oz) body weight, once.
In severe cases, treatment may be repeated in 5-7 days.
Storage
Protect from light. Store below 30°C (room temperature).
Expiry
3 years from date of manufacture
25mg Ronidazole,
25mg Secnidazole.