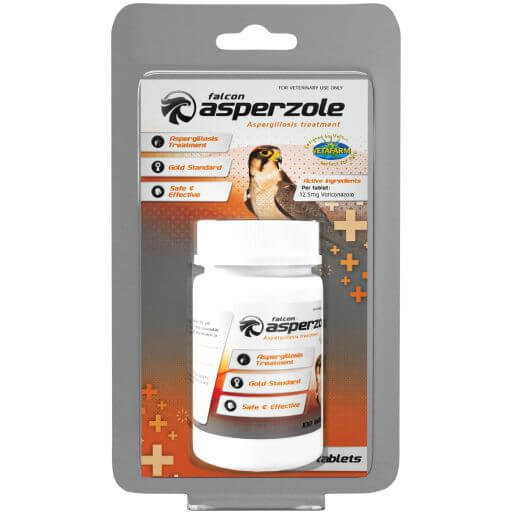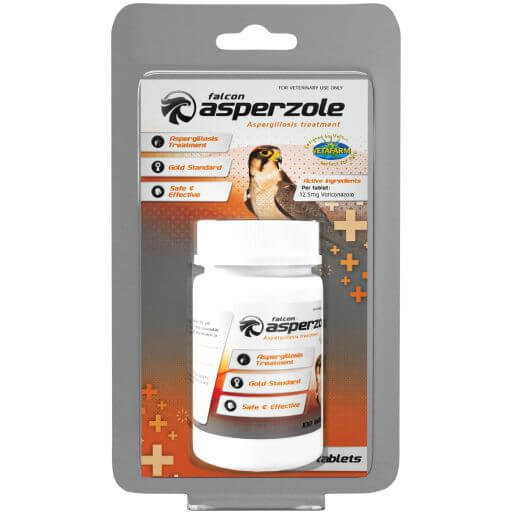 Falcon Asperzole
Falcon Asperzole is the gold standard treatment for Aspergillosis in Falcons.
It is a highly bioavailable formula, with rapid absorption and activity in a tablet form for direct administration or in feed delivery.
*** Not for sale in Australia.***
This product contains Voriconazole and is a safe and effective treatment for Aspergillosis.
Birds with aspergillosis may show very non-specific signs, and infection may not be obvious early in the disease. Ultimately, infected birds may show signs of respiratory difficulty, including tail bobbing, or weight loss. The bird may be lethargic, fluffed, and listless. Since many of the clinical signs of aspergillosis are non-specific and common to several different diseases, a veterinarian will likely want to perform several diagnostic tests to confirm the diagnosis
Asperzole is given orally at the rate of 1 tablet per kg body weight, twice daily for 21 days (or at veterinary direction).
Storage
Store below 30°C (room temperature).
Expiry
3 years from date of manufacture.
12.5mg Voriconazole per tablet