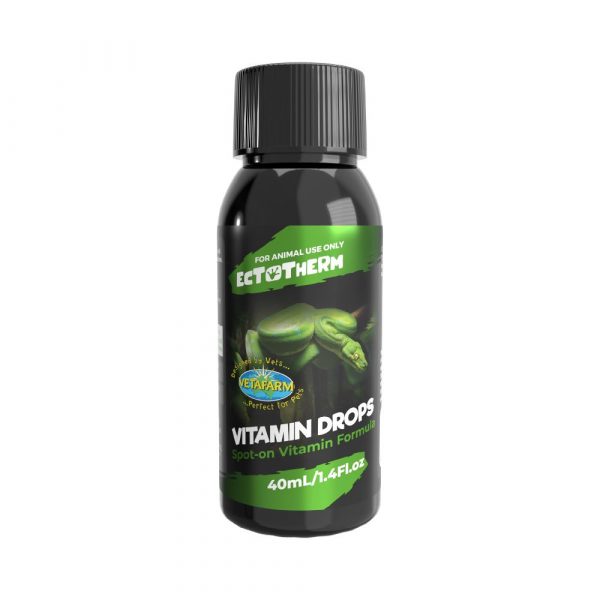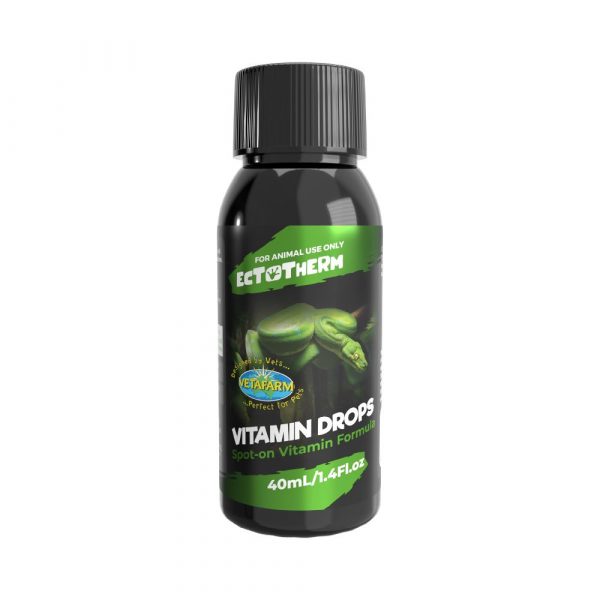 Vitamin Drops
Vitamin deficiencies are common in lizards and snakes, causing serious health problems. Ectotherm Vitamin Drops have been designed by veterinarians to provide the essential vitamins required by reptiles.
Vitamin deficiencies can have long term impacts on the heath of lizards and snakes. It is important to feed a balanced diet such as Ectotherm Lizard Food or supplementing the diet with Multical Dust and Vitamin Drops.
Vetafarm are leaders in innovation. When creating a product, we consider the easiest and most effective way to deliver it to the animal, with minimal stress for both animals and humans! With this in mind, we have created an easy-to-use drop-on formula to provide vitamin supplementation to snakes, lizards and turtles. The drop-on formula allows for the vitamins to be absorbed from the skin into the blood stream.
Dosage: Apply two drops to the skin per 100g body weight. Smear on skin to improve uptake.
Snakes: Treat once weekly while active.
Lizards: Treat twice weekly while active.
PRECAUTIONS
Do not apply to animals during brumation. Do not apply to frogs.
Storage
Store below 25°C (air conditioning)
Expiry
3 years from date of manufacture
ACTIVE CONSTITUENTS per mL
Vitamin A 275 IU
Vitamin B1 275 µg
Vitamin B2 185 µg
Vitamin B5 412 µg
Vitamin B6 275 µg
Vitamin B9 125 µg
Vitamin D3 27 IU
Vitamin E 100 µg