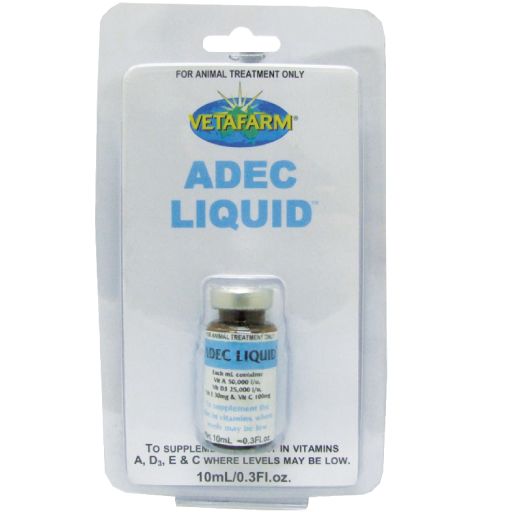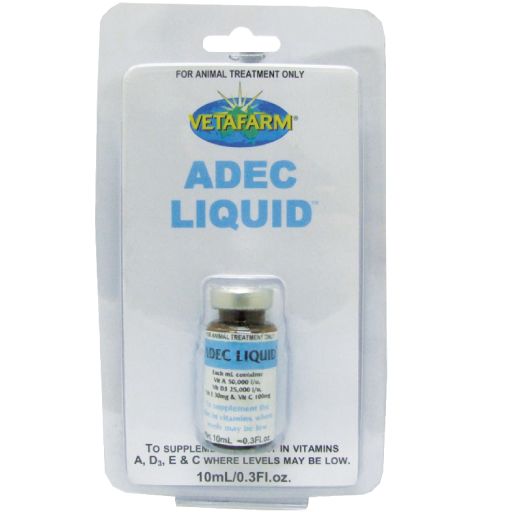 ADEC Liquid
Many diseases and health problems commonly seen in companion birds stem from malnutrition. ADEC Injectable has been formulated to provide highly concentrated essential vitamins A, D3, E and C to provide an immediate boost for critically deficient birds or balance the diet for ongoing maintenance where levels may be low.
Dietary deficiencies of vitamins A, D3, E and C can cause a range of health issues in birds. Symptoms may include mouth plaques, abscesses, sneezing, tail-bobbing, wheezing, lethargy, nasal discharge, crusty nostrils, depression, diarrhea, feather discolouration, swollen eyes or ocular discharge, weight loss.
In severe cases, these deficiencies can cause lasting effects and result in conditions such as musculoskeletal disease, cardiac disease, reproductive issues, hypovitaminosis, iron storage disease and hepatic lipidosis.
Adec liquid is a product designed to supplement the diet in vitamins A, D3, E and C where levels may be low, to assist in the prevention of deficiency related diease and health problems.
All Birds: Give 0.1ml/150g body weight, once per month.
Storage
Protect from light. Store below 25°C (air conditioning)
Expiry
3 years from the date of manufacture
Per ml:
Vitamin A 50,000 IU,
Vitamin D3 25,000 IU,
Vitamin C 100 mg,
Vitamin E 30 mg