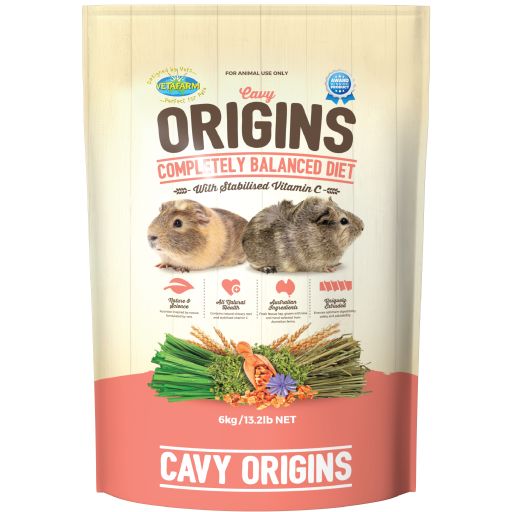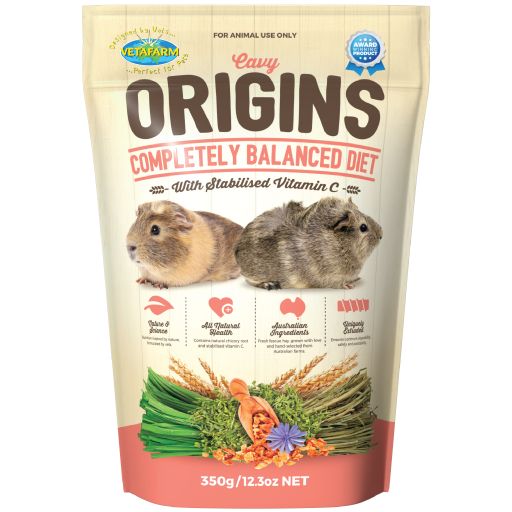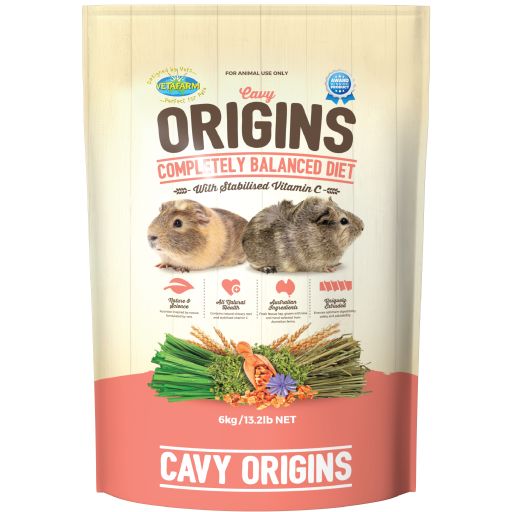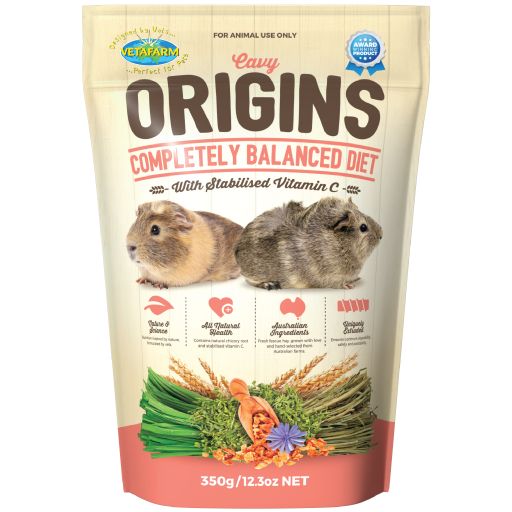 Cavy Origins
Guinea pigs require a high fibre diet for the development of strong bones and to wear down their ever growing teeth. Just like humans, Guinea pigs need vitamin C supplemented in their diet for maintaining healthy cartilage, tendons and bones.
Cavy Origins is made with hand selected Australian ingredients and includes stabilised vitamin C, to provide guinea pigs with a high quality, nutritionally balanced diet.
Cavy Origins was formulated by veterinarians for use as a completely balanced diet for pet guinea pigs when fed at a ratio of 75% High fibre hay, 20% pellets & 5% treats and fresh foods. Contains stabilised Vitamin C.
This product is made with fresh, wholesome ingredients, grown with love and hand selected from Australian farms. No by-products. It contains natural chicory root, encouraging beneficial gut flora and immune function.
Extrusion cooked to ensure optimum digestibility, palatability and food safety.
Vetafarm Cavy Origins is designed to be fed in different quantities depending on the age and activity levels of your guinea pig.
Young, pregnant nursing guinea pigs, or those requiring a higher specification diet for health reasons, should be allowed free access to Cavy Origins, while mature guinea pigs should be fed as per the guide below: Adult per day: 1/8 cup for small cavy and 1/4 cup for large cavy.
Please note that the above feeding recommendations are to be fed in addition to unlimited access to high fibre grass hay and should be used as a guide only.
Be sure to check with your veterinarian or contact Vetafarm for more specific information if required, particularly if your Guinea Pig has special dietary needs.
Storage
Store in a dry area below 30°C
Expiry
2 years from the date of manufacture
Fescue, lucerne, oat fibre, wheat, soybean, oats, chicory root (inulin), vegetable oil, dry molasses, Essential Amino Acids (Lysine and Methionine), zeolite, chicory root , soy protein concentrate, Vitamins (A, B1, B2, B3, B5, B6, B9, B12, stabilised vitamin C, D3, E, H & K) & Minerals (calcium, cobalt, copper, iodine, iron, magnesium, manganese, phosphorus, potassium, selenium, sodium, sulphur and zinc).
Guaranteed Analysis
Min Crude Protein 15.0%
Min Crude Fat 4.0%
Min Fibre 12%
Max Salt 0.5%
Calcium 0.8% -1.1%
Phosphorus (min) 0.4%
Vitamin A (min) 8,000 IU/kg
Vitamin D3 (min) 3,500 IU/kg
Vitamin E (min) 150 mg/kg
Vitamin C (min) 1200 mg/kg