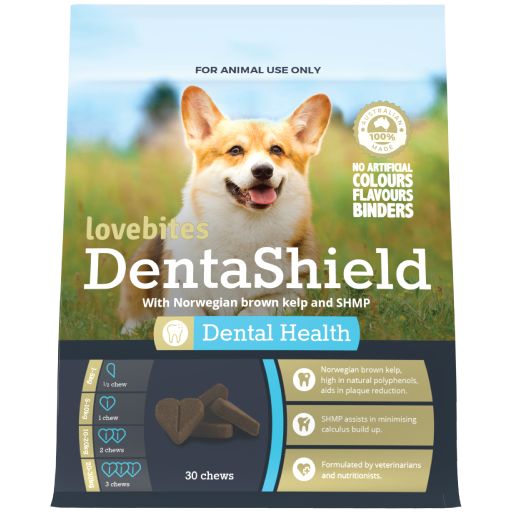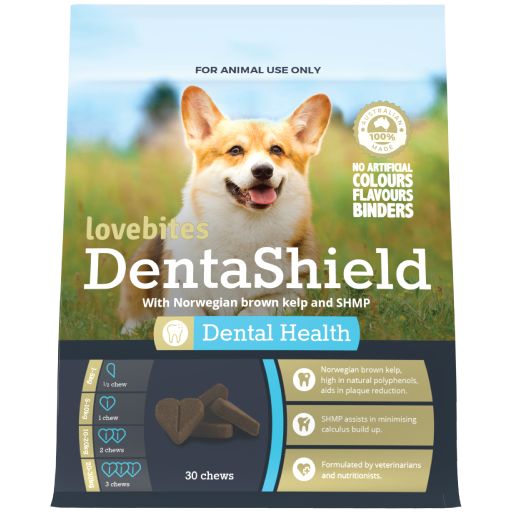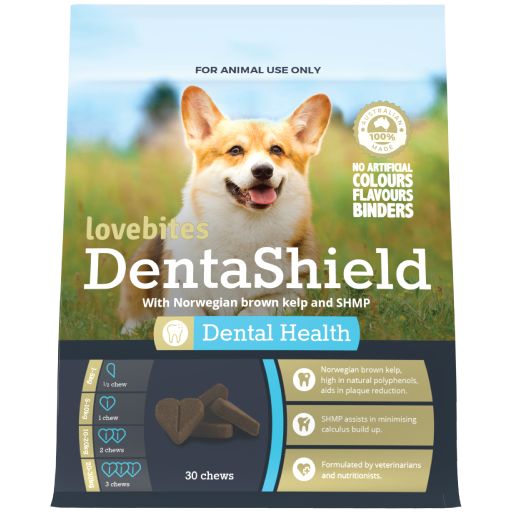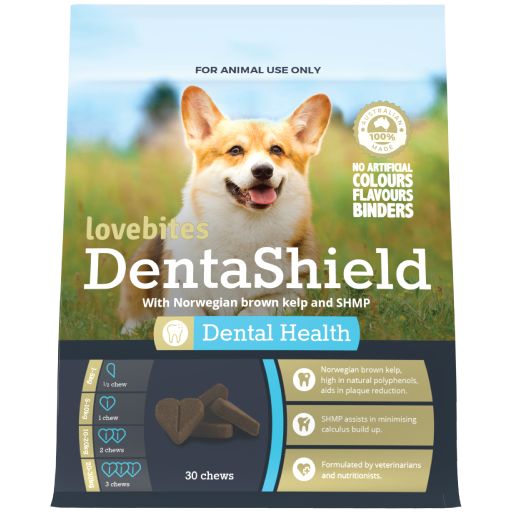 Lovebites DentaShield
Approximately 80% of dogs over the age of three suffer from some form of dental disease.
DentaShield chews are a functional treat designed to combat dental disease using a unique combination of Norwegian Brown Kelp and SHMP. Norwegian Brown Kelp is rich in natural compounds that may interfere with plaque accumulation and SHMP may aid in preventing tartar formation.
DentaShield chews have been Veterinary formulated for daily use as a treat to assist ongoing oral health.
Norwegian Brown Kelp protects the teeth from plaque accumulation while SHMP has been clinically proven to reduce tartar formation by up to 70%.
DentaShield chews do not require excessive chewing - great for dogs with sore teeth and small dogs that have difficulty with larger traditional sized dental treats.
Contains all natural flavours with ovine plasma and Australian kangaroo, with no artificial colours, flavours, or binders. Grain free.
Present to your dogs as a tasty treat directly from the hand.
Maintenance Dose: Provide 1 chew per 10kg of bodyweight daily.
1-5kg give ½ chew
5-10kg give 1 chew
10-20kg give 2 chews
20-30kg give 3 chews
Storage
Store in a cool, dry place and keep bag sealed once opened.
Expiry
2 years from the date of manufacture
Norwegian brown kelp (714mg/chew)
SHMP (Sodium Hexametaphosphate) (193mg/chew)
Also contains: kangaroo meat, ovine plasma, sorbic acid, sorbitol, chicken, vegetable oil.