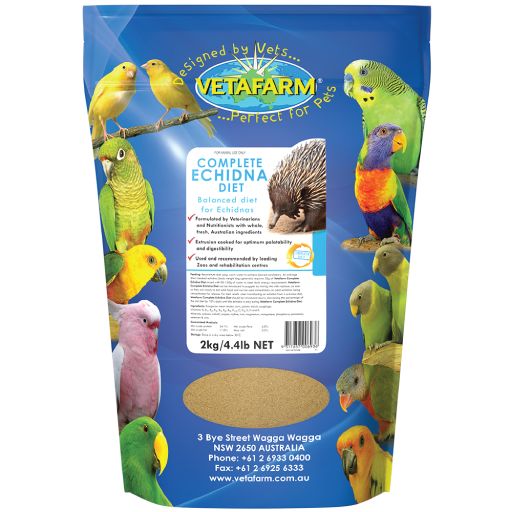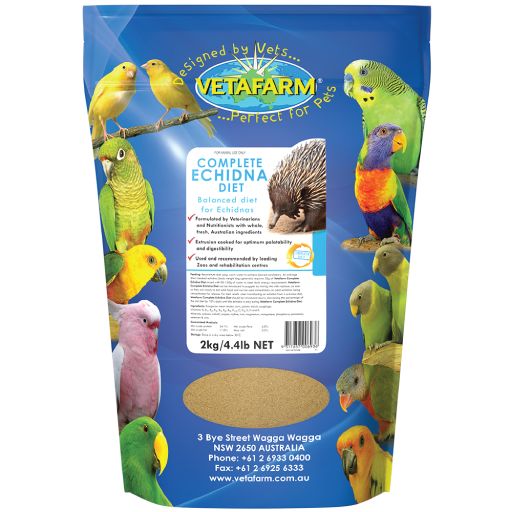 Echidna Diet
Our nutritionists and veterinarians formulated Vetafarm Complete Echidna Diet as a nutritionally balanced diet to suit the particular diertary requirements of Echidnas.
The formula contains hand-selected ingredients from Australian farms and is extrusion cooked for optimum palatability and digestibility. This product is used and recommended by leading zoos and rehabilitation centres.
Vetafarm Complete Echidna Diet was formulated by veterinarians as a completely balanced feed for Echidnas.
This product is made with fresh Australian ingredients and is extrusion cooked for optimum palatability, digestibility and food safety.
It is used and recommeded by leading Zoos and rehabilitation centres.
Reconstitute diet using warm water to achieve the desired consistency.
An average Short-beaked Echidna (body weight 4kg) generally requires 30g of Vetafarm Complete Echidna Diet mixed with 90-120mL of water to meet daily energy requirements.
Vetafarm Complete Echidna Diet can be introduced to puggles by mixing into milk replacer, as soon as they are ready to eat solid food and can be used immediately on adult echidnas being rehabilitated for release.
For best results when transitioning an echidna from a previous diet, Vetafarm Complete Echidna Diet should be introduced slowly, decreasing the percentage of the old diet by 10% daily
until the echidna is only eating Vetafarm Complete Echidna Diet.
Storage
Store in a dry area below 30°C
Expiry
2 years from date of manufacture.
Meat meal, corn, soy protein isolate, roughage, potato starch,
minerals (calcium, chloride, cobalt, copper, iodine, iron, magnesium, manganese, phosphorus, potassium, sodium, sulphur, selenium & zinc),
vegetable oils and organic acids, amino acids (arginine , cystine, histidine, isoleucine, leucine, lysine, methionine, phenylalanine, taurine, threonine, tryptophan, tyrosine & valine) and
vitamins (A, B1, B2, B3, B5, B6, B9, B12, C, D3, E, H, K & choline).
Guaranteed Analysis
Min crude protein 34.1%
Min crude fat 11.0%
Min crude fibre 6.0%
Max salt 0.5%