I wanted to let you know what an amazing difference Lovebites B-Calm has made for my 13yr old Maltese Shitzu Finnegan. He's been following family members around, having to stay by their side of a day & pacing around of a night, barking to be let out multiple times & suffering anxiety that appear to be dementia.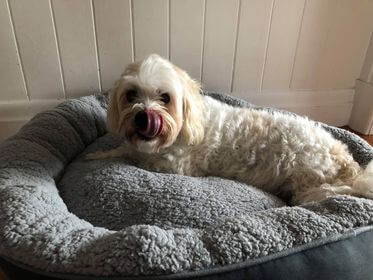 A vet prescribed some stuff which had very little impact. We practically got no sleep last week & I was becoming increasingly frustrated at him waking the family. This resulted in me going mad at him then feeling guilty.
In desperation to have uninterrupted sleep, I bought some B-Calm chews on the weekend from Petstock to try. He's a fussy eater but was happy to eat them. He's slept the last 3 nights which is amazing! I have an appointment with the vet but I'm not sure if I still need it. Just wanted to let you know what a good job the product is doing!
Profile
Owner

Renee D

Species

Maltese Shih Tzu

Condition

Anxiety

Solution

Lovebites B-Calm Chews

Products used
Read more stories like this one