Edgar's Mission | A farm sanctuary | Our mission is kindness
Edgar's Mission is a not for profit Farm Sanctuary that seeks to create a humane and just world for humans and non-humans. Edgar's Mission Farm Sanctuary is set on 153 peaceable acres situated just outside of Lancefield, nestled in the tranquillity of the Macedon Ranges. This farm sanctuary currently provides life-long love and care to over 350 rescued animals, including more than just a few lucky (and equally cheeky) chickens.
Edgar's Mission was founded by Pam Ahern and named after her first rescued pig, Edgar. Edgar Alan Pig, aka "The pig who started it all," sadly passed away shortly after his 7th birthday party in April 2010. Edgar, a gentle giant, touched so many people and was an amazing ambassador for pigs and farmed animals everywhere. He will be missed beyond words – but his mission will continue.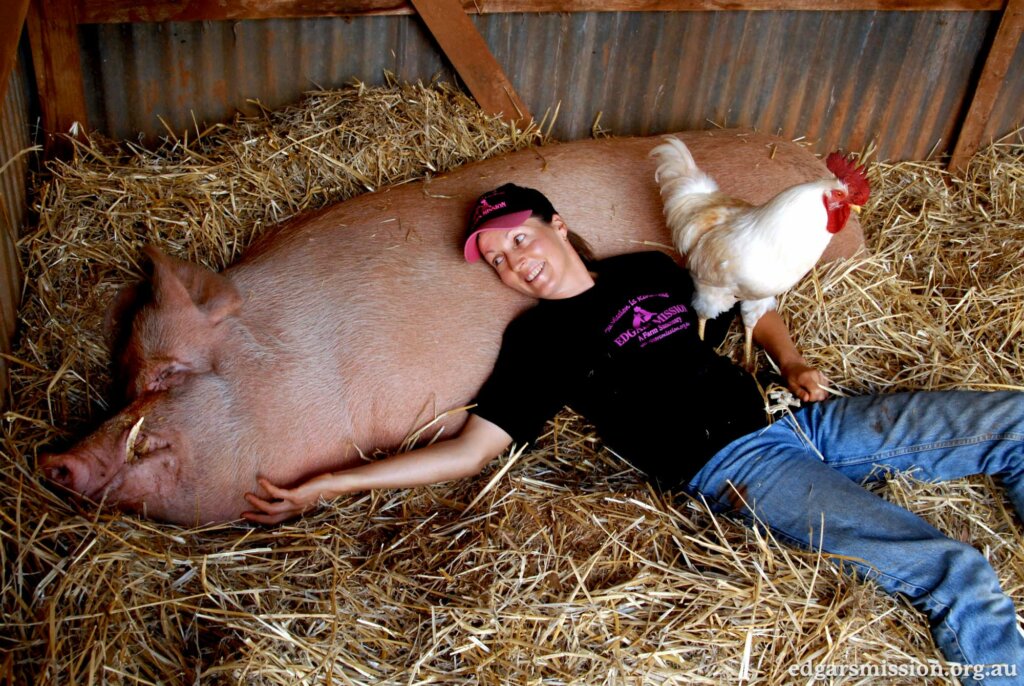 Why do farmed animals need rescuing?
Few Australians are aware that the vast majority of animals in human care in this country – some 500 million 'food' or 'production' animals – have been excluded from the protection of our animal welfare legislation.
In particular, millions of farmed animals daily endure lives of abject misery in factory farms. Barely able to move they endure acts of cruelty that would be illegal if they were your cat or dog. Imagine a life without sunshine, without freedom, without being able to socialize, without hope … Welcome to the 'life' of a factory-farmed animal.
How has this happened? As custodians of this planet, we have been guilty of playing favourites. We have designated some animals friends and some animals food. Yet they are no different. All share the same ability to suffer, the same need and desire to experience life, for it to have joy, meaning and purpose.
Edgar's Mission provides you with the opportunity to meet these animals, read their stories and decide which life they need and deserve. Edgar's Mission provides you with a glimpse into a different world – a merciful world.
To learn more about work being done by Edgar's Mission, visit www.edgarsmission.org.au or visit their Facebook page.
Read more stories like this one