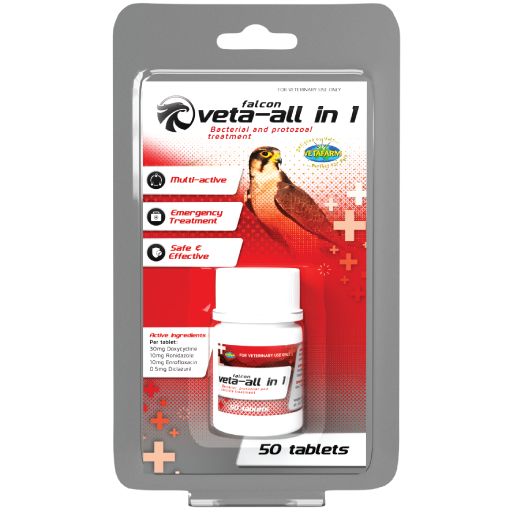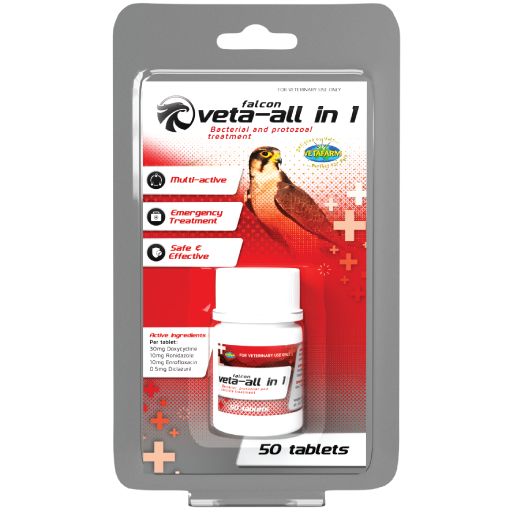 Falcon Veta All In 1
Multi-disease cure tablets for the treatment of bacterial and protozoal infections in falcons.
*** Not for sale in Australia.***
Falcon Veta-All In 1 Tablets were formulated by avian veterinarians.
The actives in Veta-All in 1 target the most common causes of rapid onset illness in Falcons, such as Frounce/Canker, Coccidiosis and bacterial infections (caused by Mycoplasma spp., Salmonella spp., E.coli and Pasturella spp.), making it the perfect emergency treatment when in remote locations or during the hunt.
Does not treat Aspergillosis. 100% safe for use on all Falcons.
Give 2 tablets per kg bodyweight, twice daily for 5 - 7 days
Storage
Store below 30°C (room temperature)in a dry place, out of direct sunlight.
Expiry
5 years from tdate of manufacture
30mg Doxycycline,
10mg Ronidazole,
10mg Enrofloxacin,
0.5mg Diclazuril.