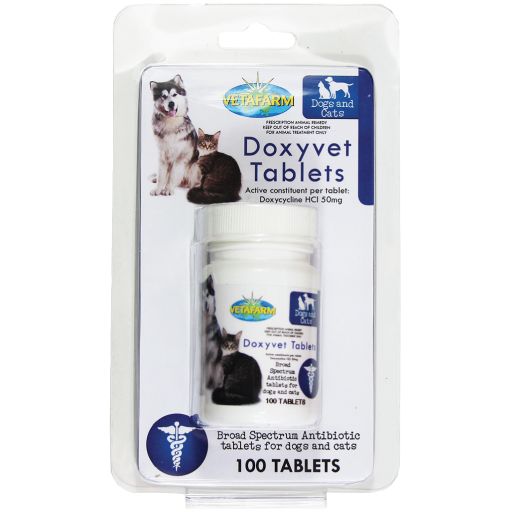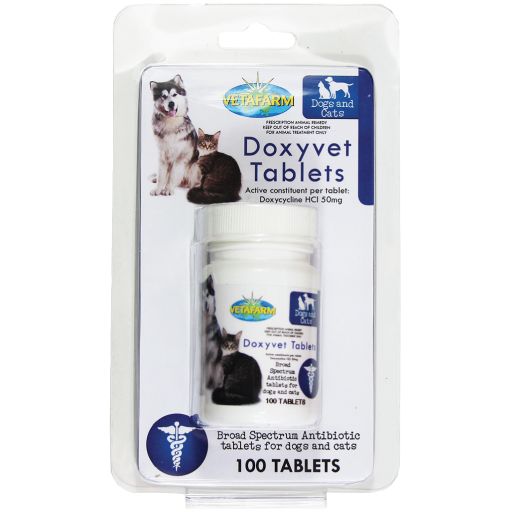 Doxyvet SA Tablets
Broad spectrum antibiotics are an essential tool to have on hand when a bacterial infection is suspected. Doxyvet is a broad-spectrum antibiotic liquid designed to be effective against gram-positive and gram-negative organisms. Doxyvet is easily administered in water suitable for birds, guinea pigs, hamsters, rabbits, cats and other small animals.
*** Not for sale in Australia.***
Doxyvet is a broad spectrum, oral antibiotic tablet for the treatment of infections caused by Doxycycline susceptible organisms in dogs and cats. These may include skin, respiratory tract, urinary tract, oral and ear infections as well as abscesses and wound infections.
Contraindications: Not to be used in newborn animals or during last trimester of pregnancy.
Directions For Use:
Initial Dose: 1 tablet per 10kg (22lb) bodyweight
Maintenance dose: ½ tablet per 10kg (22lb) bodyweight
Give tablets with food or directly after food. Provide the initial dose once, followed by a maintenance dose at 12 and 24 hours. Then provide the maintenance dose once
daily until 48 hours after symptoms have subsided.
Storage
Store below 30°C (room temperature) in dry conditions.
Expiry
3 years from the date of manufacture
Doxycycline Hydrochloride 50mg/tablet